A well-balanced breakfast divide in certain group like Whole wheat bread and cereals, low-fat dairy products, and fruits are a common way to choose a healthy breakfast.
Every body have a question about healthy breakfast like what are they, why it is necessary to do healthy breakfast and benefit for the body.
The Reason is when your body not needs any thing still you eat healthy food so body can't absorb it. Because it has sufficient supplements.
But when over night you didn't eat any thing so in morning body wants energy at that time if you eat healthy breakfast so it easily grab by body.
Studies have also shown that a breakfast that includes a high-protein diet and a balanced diet may help to reduce weight.
Benefits OF Good Breakfast
Make Smarter Brain with Growth
Did you observer morning routine at your work place? It is starting of the day still why your work starts with coffee or tea?
Did you try to find a reason of that or you feel it just like a corporate gesture?
After a night of fasting, your brain needs a new supply of glucose (blood sugar) of fuel. Without it, you will have trouble processing new information, have problems with physical comprehension, and you will not remember much.
Get essential nutrients
Your healthy breakfast is fortified with nutrients that your body needs to function properly on a daily basis.
Foliate (vitamin B9 and folacin), fiber, Protein, Carbs, Fats all are the essential nutrients.
Essential nutrients will help your body energetic to doing work until you take next meal. And your body grave maximum nutrients when your body recommended it after whole night fasting. It is only possible by healthy breakfast.
Help Your Heart
Making sure you have a healthy breakfast in your system to improves a heart function by reducing chances of diabetes and lowering BP.
Those who skip breakfast tend to have higher cholesterol levels, which is a major risk factor for heart disease.
Healthy breakfast eaters tend to get less fat and more fiber in their diet, leading to overeating and reducing less unhealthy foods between meals.
Metabolismul Energetic
Instead of packing a heavy dinner, start your day with a delicious breakfast. It can help prevent metabolic disorders such as obesity and insulin resistance.
A study in the International Journal of Obesity examined the type of diet and time of consumption that led to the manifestation of metabolic syndrome in mice.
Mice fed a high-fat diet after waking up had normal metabolic profiles, while mice eating a high-carbohydrate in the morning and eating a high-fat diet for the day showed weight gain and other symptoms of metabolic syndromes.
Don't avoid your breakfast
After your full night sleep, your body needs some nutrition as it consider as whole night fasting. Healthy Breakfast literally means breaking the fast, and it is necessary to jump-start your body.
Improve the Immune System
To fight common cold and colds, you need to sit down and eat your breakfast.
Studies in the Netherlands have shown that eating a lot of breakfast increases your body's gamma-interferon, a natural antiviral that uses body cells directly.
Skipping healthy breakfast caused a decrease in gamma-interferon percentage.
Beneficial in Skin
Eggs, a wonderful and popular breakfast, do more than just fill you up. No matter how they are wrapped, the eggs are delicious on your skin.
Lutein, a carotenoid antioxidant found in eggs, helps maintain skin firmness and protects skin cells from serious free radicals. One egg a day can increase your lutein levels by 26 percent.
Explain Perfect Breakfast Type
1. Fruits
Fruit are delicious and healthy breakfast with different types of nutrient.
All types of fruit are rich in vitamins, potassium, fiber, all are low in calories. One cup of chopped fruit provides about 80-130 calories, depending on the variety.
You can take fruit and eggs, cheese, cottage cheese or Greek yogurt with a well-balanced breakfast that will last you hours.
2. Upma
The upma contains fiber, vitamins, and healthy fats. Low cholesterol and calories make it a healthy food and help you have a healthy diet.
Upma is prepared using semolina and is full of iron. Iron is an important mineral in our body and upma is an easy way to detoxify your body.
which means it has a lot of fiber and this helps you to stay active throughout the day.
Having an upma for healthy breakfast keeps you energized throughout the day.
Upma is made from wheat waste and is high in potassium. Potassium is good for your kidneys.
3. Pumpkin Seeds
Pumpkin seeds may be small, but they are full of essential nutrients.
Just a small amount of your diet can give you plenty of healthy fats, magnesium and zinc.
For heart health, pumpkin seeds are very useful. It is also useful for protection against certain cancers.
4. Oatmeal
Oatmeal is the best breakfast option for food lovers.
This fiber has many attractive health benefits, including reduced cholesterol, increases levels of the hormone PYY.
These antioxidants can also benefit for heart health and lower BP.
Although oats are gluten-free, they are often processed in the same containers as gluten-containing grains.
Therefore, people with celiac disease or gluten sensitivity should choose oats that are certified as gluten-free.
One cup of cooked oatmeal contains only 6 grams of protein, which will not provide the benefits of a high-protein healthy breakfast.
5. Egg
Eating eggs are feelings of fullness which also cut of calories uses to maintain blood sugar and insulin levels.
Men who eat eggs for breakfast felt more satisfied.
Egg yolks contain some antioxidants like lutein and zeaxanthin which help prevent eye disorders such as starvation and macular degeneration
Eggs are also one of the best sources of choline, the most important ingredient in brain and liver health.
Eating whole eggs can reduce the risk of heart disease
Eggs also do a lot of things. For example, hard-boiled eggs make a great portable healthy breakfast that can be prepared ahead of time
6. Nuts
Nuts are full on with nutritious and addition to your healthy breakfast, as they complement and help prevent weight gain.
Although nuts have high calorie content, research shows that they do not absorb all the fat in them.
This may be true of some nuts as well, but this time only almonds have been tested.
In addition, nuts have been shown to improve cardiovascular risk factors and reduce insulin resistance and inflammation.
All types of nuts also contain magnesium, potassium and healthy monounsaturated fats.
Nuts are also beneficial for people with diabetes.
7. Coffee
Coffee is an amazing drink to start your day.
It is high in caffeine, which has been show to improve mood, mental performance.
A review of 41 studies found that the most effective dose was 38-400 mg per day to maximize the benefits of caffeine while minimizing side effects.
Caffeine has also been shown to increase metabolic rate and fat burning.
8. Greek Yogurt
Greek yogurt is creamy, delicious and nutritious which is process with some dairy products in specific manner.
Proteins have been shown to reduce feelings of hunger and have a higher thermic effect than fats or carbs.
The term thermic activity refers to an increase in metabolic rate that occurs after a meal.
Certain types of Greek yoghurt are good sources of probiotics such as Bifidobacteria, which help your stomach to stay healthy
To make sure your yoghurt contains probiotics, look for the phrase containing live and active cultures on this label.
9.Chia Seeds
Chia seeds are extremely nutritious and are one of the best sources of fiber around.
In fact, one ounce of chia seeds provides about 11 grams of fiber per operation.
In addition, part of chia seed fiber is viscous fiber, which absorbs water, increases food flow through the digestive tract and helps you feel full and satisfied.
Chia seeds improve blood sugar and blood pressure in body.
Chia seeds also contain many antioxidants, which protect your cells from unstable molecules called free radicals produced during metabolism.
10. Poha
Poha is a good source of carbohydrates, rich in iron and fiber, a good source of antioxidants and essential vitamins and is gluten free. It is good for diabetes, skin and heart.
11.Wheat Porridge
Crushed wheat is made from unrefined wheat and is therefore rich in fiber, vitamins, Iron, phosphorus and minerals. In the past few years Wheat Porridge has become very popular all over the world
Healthy breakfast Recipe:
High protein chia seeds Pudding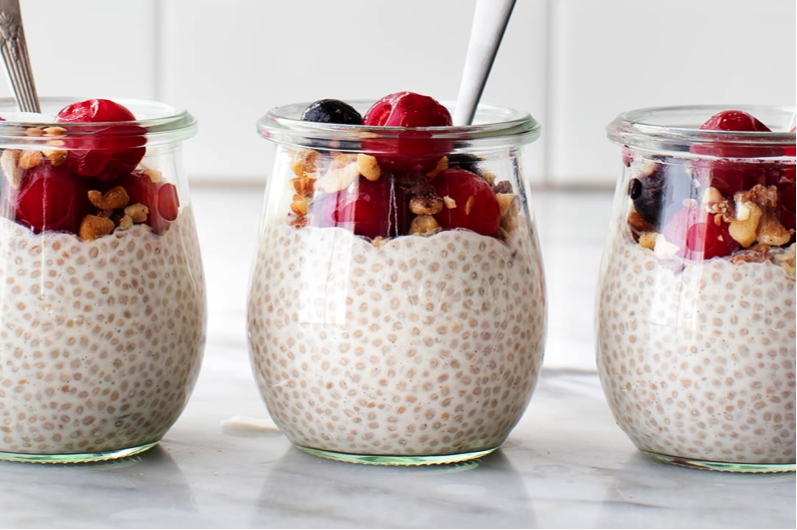 Ingredients
1/4 cup Greek yogurt
2 tsp honey
2 tbsp chia seeds
1/2 cup unsweetened almond milk
1/4 cup dry fruits and selected fruit
Instructions
Take 8 onces jar and mix greek yogurt, honey and chia seeds.
Wait for two minute after that stir the mixture again.
Cover jar with lid and keep a side for 10-15 minute.
After that put jar in refrigerator at least for 1 hour.
Garnish with dry fruits and fruits.
Roasted Pumpkin Seeds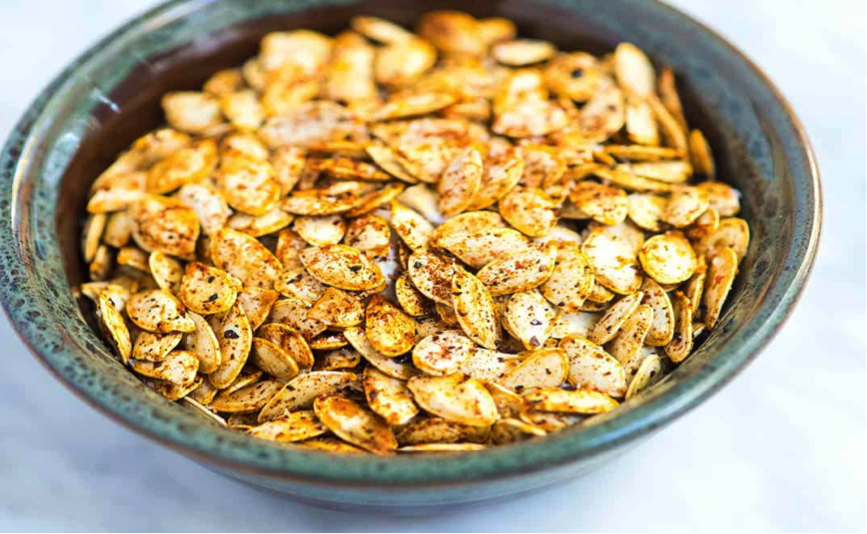 Ingredients
2 cup raw pumpkin seeds
1 tablespoon oil
1 teaspoon salt
1 teaspoon garlic powder
Instructions:
Wash pumpkin seeds and Dry properly with tissue paper.
Take a bowl and add all Ingredients in that. And properly mix well.
Spread ready mixture on grease baking tray and put in preheated the oven to 350 ° F (177ºC).
Bake until the seeds are fried and full, about 12 to 15 minutes.
Mix every 5 minutes even to make a crunchy.
Cream of wheat (semolina) Recipe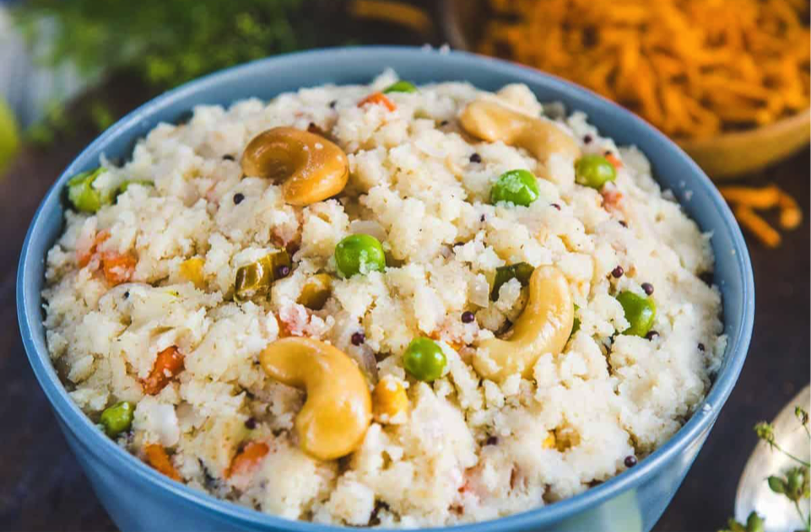 Ingredient
2 tablespoon oil
1 small onion fine chop
1 to 2 green chilies
½ teaspoon cumin seeds and mustard seeds
1 tablespoon split black gram, 2 tablespoon cashew nut
1/2 cup fine chopped carrots, boiled Peas (if you want to add)
2 cup roasted semolina.
Instructions:
Put pan on low flam. When pan little bit hot, add oil into pan.
Once oil get hit add mustard seeds until it sprinkle.
Add cumin seeds. After 4-5 seconds add split black gram, cashew nut cook on over medium heat until it turns golden and fry well.
Then add the onion, carrot and boil Peas for only 3 to4 minutes until the onions are pink.
Pour 2 cups of water and add one teaspoon of salt to mix well.
Add the Roasted without turning the stove. After turning off 2 to 4 min and keep the pan covered for about 5 min.
Wheat Porridge Recipe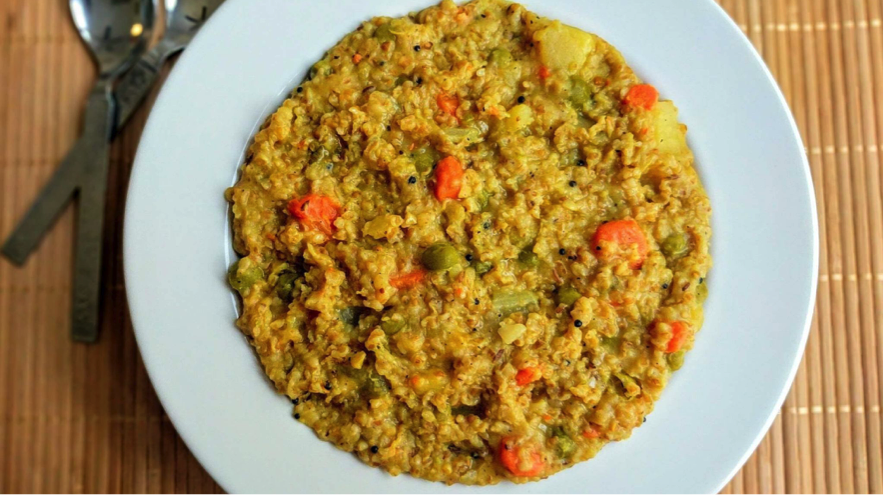 Ingredients
1 tomato
2 tablespoons cooking oil
1 teaspoon cumin seeds
1 table spoon roasted split gram(dailya)
1 teaspoon Chili paste
¼ cup mix vegetable like Peas, carrot, onion, potatoes as per choice
1 cup wheat porridge
1/2 cup yellow split gram
Instructions:
Wash the yellow split gram with water and sit aside.
Heat the oil in a pressure cooker and add the roasted split gram(daliya), cumin and green chilis.
After 1min, add ¼ mix vegetable whatever you like.
Add all dry ingredient and 3 cups of water then mix well.
Add 2 cups of warm water and chopped ginger to the cook and mix well.
Wait for 2 whistle on low flame. Then serve it.
Oats meal Recipe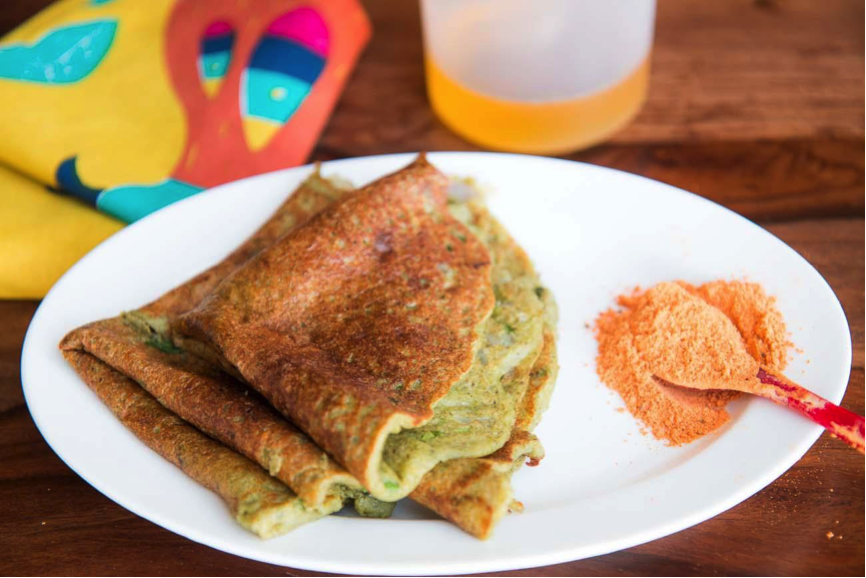 Ingredients
1/3 teaspoon cumin seeds
½ inch chopped ginger
1 green chilli
Red chilli powder and turmeric powder each ¼ teaspoon
Small tomato finely chopped tomatoes
1 small finely chopped onion
½ cup Gram flour
½ cup cooking oats
¾ cup water
Salt and Oil as per required
Instructions:
Ready batter
Take oats in mixer jar and convert into fine powder
Mix all dry ingredients, onion, ginger, tomato, gram flour and ready oats fine powder in a bowl.
Add water in bowl and mix all together and make even batter.
If you find batter little bit thick so add 1 or 2 tablespoon water again. And check that no lumps in batter.
Making Oats Wrap
Heat non-stick pan on low flame. Once pan will medium hot then take some amount of batter and spread on span.
Spread bit of oil edges of wraps. When top portion of wrap will be dray then slowly turn down wrap on pan when bottom slide cook properly.
Spread again oil at edges of wrap and cook other slide properly.
Onces both side are properly cook so fold wrap and serve into plat.
Beaten Rice(Poha) Recipe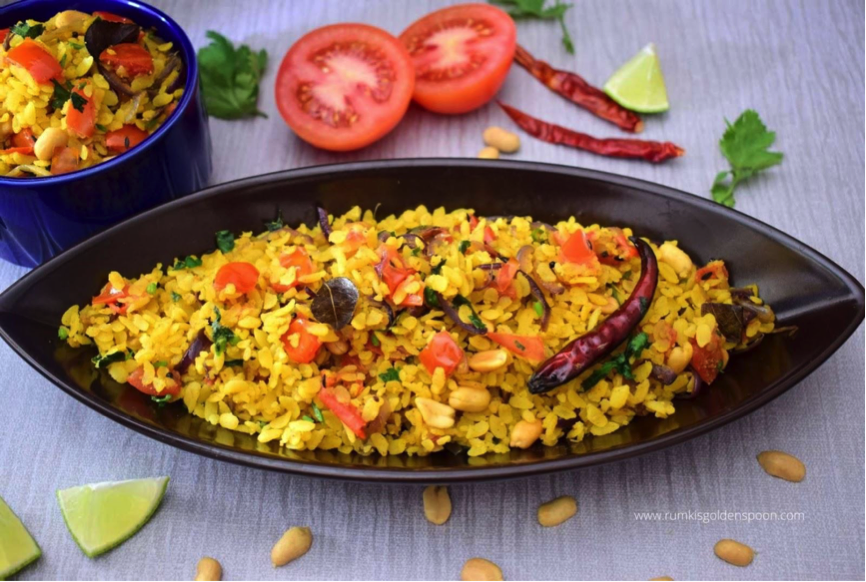 Ingredients
2 tablespoon of nuts.
1 tablespoon oil
1 teaspoon of mustard seed
¼ finely chopped onion
1 chopped green chilli
1 small potato with thin small slice.
6-7 curry leaves
Salt and Oil as per required
2 cup of Beaten Rice
1 teaspoon lemon juice
1 teaspoon turmeric powder
Instructions:
Wash beaten rice with water for 2-3 times. Drain out all the water and keep a side to be soften
Add some nuts with little bit sprinkle oil in pan. Roast it until it golden brown.
Transfer ready nuts in bowl and add again oil in same pan and let hit the oil
Add mustard seed and curry leaves until it sprinkle then add green chilies.
Add onions and cook for 1 min.
When using potatoes add water and beat for 2 to 3 min. close the pan and cook over low heat until the potatoes are cooked.
Add the turmeric and add the soft poha and mix well.
Add lemon juice to taste and keep it covered until served.